Announcing the Winners of the 2010 Big Easy International Film Festival
JURY AWARDS
Best Narrative – Feature Film
Dynamite Swine
Best Documentary – Feature Film
China: Rebirth of an Empire
Best Drama – Short Film
The Desperate
Best Comedy – Short Film
Wid Winner & the Slipstream
Best Thriller – Short Film
The Absence
Best Documentary – Short Film
Banjo & Whistle
AUDIENCE AWARDS
Best Narrative – Feature Film
Lunopolis
Best Documentary – Feature Film
Katrina Cop in the Superdome
Best Drama – Short Film
My Alien Mother
Best Comedy – Short Film
Take My Wife
Best Thriller – Short Film
The Absence
Best Documentary – Short Film
Return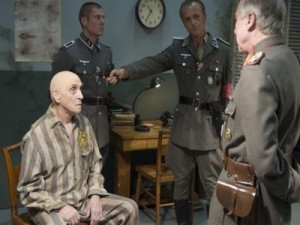 by Karmel Melamed
Iranian Jewish filmmaker Ben Hur Sepher was shocked on Sunday night Oct. 24 when his independent short film "The Desperate" was announced as the best short film at the Hollywood Film Festival. A humble Sepher accepted the trophy for the heart-wrenching film that deals with an eminent Jewish surgeon imprisoned at a Nazi concentration camp during World War II who is conscripted at gunpoint to perform emergency surgery on the son of a fearsome Nazi general. The film stars television series regular Peter Mark Richman, who gives a remarkable performance as the guilt ridden Jewish surgeon Dr. Blumenthal in the film.
But this latest award is not the only acclaim the film has received since it was released earlier this year. "The Desperate" has so far won 17 top honors at a whole host of national film festivals including best Short Film of 2010 at the California Independent Film Festival and runner up for best Short Film of 2010 at the Los Angeles Jewish film Festival.
I caught up with Sepher who was caught off guard with his film's latest win when he said "I am honestly surprised to receive such an honor at the Hollywood Film Festival— I wasn't expecting it at all". Sepher is one of the Iranian Jewish community's rare filmmakers who has made a name for himself in Iran and the United States for writing, directing and producing provocative films. His occupation as a filmmaker is indeed unique in the Iranian Jewish community because individuals who pursued careers in the arts or entertainment in Iran were typically not looked highly upon or even respected. Nevertheless Sepher was trained in his craft at the Swedish Film Institute and began his career at the Stockholm State Theatre as a protégée to renown film director Ingmar Bergman. Sepher went on to direct films and plays in Iran and was the personal filmmaker to the late Shah of Iran— shooting the Shah's private meeting and gatherings. Since immigrating to the U.S. three decades ago, he has gone on to direct a whole host of television programs and short films in Hollywood.
(left to right; cast member Leonardo Foti, Ben Hur Sepher and cast member Alexander Leeb.
What I found truly remarkable was the fact that the "The Desperate" was produced by a filmmaker of Iranian descent. This speaks volumes in light of Iran's current president denying the existence of the Holocaust. No doubt this short film will draw the attention of Iranians living worldwide who are interested in learning more about the realities of the Holocaust.

Madame Perrault's Bluebeard
plays in Insomnia
(Canada, 2010, 6min, Color)
Directed By: A.J. Bond
Cast & Credits
A fantasy re-envisioning of the classic fairytale Bluebeard by Charles Perrault, in which Perrault's young wife reads
herself into his dark allegory on marital mistrust.
Show Times
Tue, Oct 12 – 9:15 pm
Empire Granville 7 Th 2
$12.00
Wed, Oct 13 – 4:00 pm
Pacific Cinematheque
$10.00
Madame Perrault's Bluebeard
A.J. Bond 2010
Categories: Drama
Run time: 6 min. | Canada
Fiction and reality are blurred when Madam Perrault stumbles upon pages from her husband's manuscript, giving her a glimpse into a surreal and haunting portrait of her own life.
9:25 PM Thu, Sep 23
screens with…
Shorts 4
Family Jewels | Martin Stitt 2009
GirlLikeMe | Rowland Jobson 2009
Green Crayons | Kazik Radwanski 2010
Savage | Lisa Jackson 2009
SIS | Deborah Haywood 2010
Little Children, Big Words | Lisa James Larsson 2010
The Birthday Circle | Philip Lepherd 2010
Park Lane – 7
about the film
cast & crew
Director
A.J. Bond
Screenwriter
Victor Schoucair
Cast
Alexander Leeb
Kim Haden
Producer
Amy Belling
Cinematographer
Amy Belling